October 13th, 2012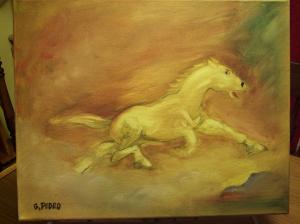 Creativity in the Modern Age.
Art has had it's horizons expanded by the advent of the computer. It allows us to freely create far more than we could with mere paint and brush or pen and ink. Although I love using Oils and Inks, I can now take those images I create and explore the endless possibilities that are afforded me with the simple introduction of my base work into the different computer programs and utilize their potential for artistic expansion into previously unattainable lengths.

Creating on a Daily Basis
I am often asked, "Where do my ideas come from?" . I tell them ,"From Life". Everything we do, everywhere we go on a daily basis gets embedded in our minds and starts the wheels moving in the creativity processing center in our brain. It is something that cannot be turned off, it sometimes seems as though it has disappeared for a time but it is always there.
I find myself deep in thought when i am not putting things down on canvas or the computer screen. I have to release the creative urges that pulse through my body or I freeze up, I become lost in thought.
I have struggled for years with this problem and have finally come to the conclusion that the answer is to let it come out. I don't try to keep it bottled up anymore. The computer has made it possible for me to do this where I was limited when only being able to release on canvas in my studio. The computer has freed me from that prison.
So when the urge to create something comes over you, don't stifle yourself. Pick up that brush, camera , hammer and chisel or mouse, or whatever media you like and just do it. You will feel the pressure coming off your back.
Go create what your mind tells you to create. It could be a simple cartoon or a complex sculpture or painting, whatever it is, your mind will direct your hands.